Adding a Co-Teacher
How can I add a co-teacher, tutor, or administrator to my class?
Written by

Josh Capon
Last update 6 months ago
You can now add teammates in order to manage classes, share student performance reports, create assignments, and more.
To add a teammate:
Step 1: Log Into ReadTheory
Step 2: Head over to the "My Classes" page. Choose the class you wish to add a teammate to:
Step 3: Click on the systems icon
Step 4: On the right-hand side of the screen, input the email address of the teammates you want to add to the class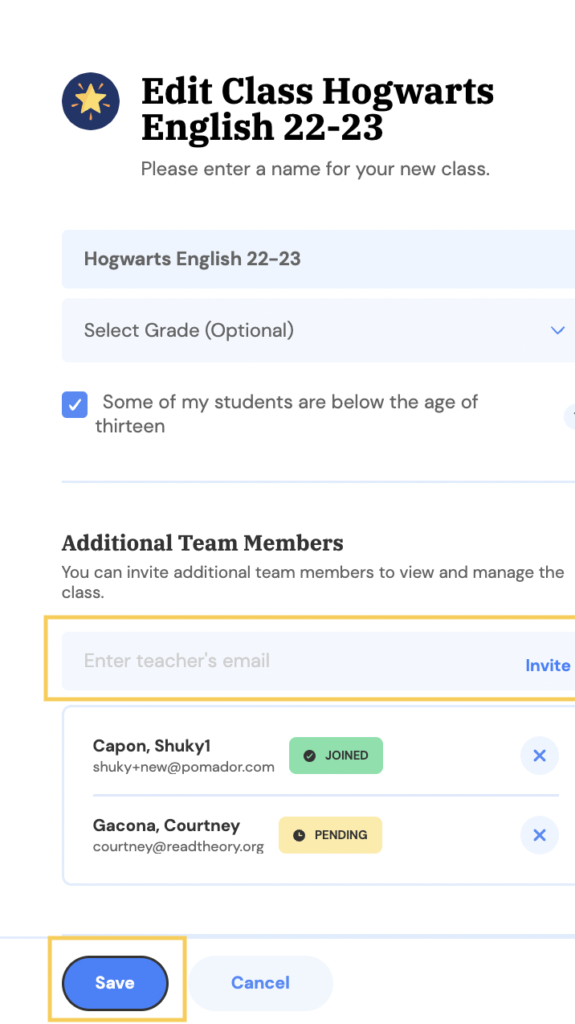 Step 5: Click save
Step 6: Moments later, ReadTheory will automatically send the teammate you just invited an email to join your class. If they are new on ReadTheory, they will need to create an account first (using the same email address you inputted for the invite.) If they are already on ReadTheory, they just need to log in to see your class connected!
Check out our instructional video HERE.
Once connected, your co-teacher will be able to view and manage your class and students along with you!
Alternatively, our support staff can quickly and easily connect you or your co-teacher to those existing accounts manually. In order to comply with FERPA and COPPA guidelines, we need authorization from either an administrator, the students' existing teacher, or a Data Manager for your school or district. Once we receive that authorization, we can quickly link those existing accounts to the new teacher.
Please find the linked document to send over to the appropriate contact in your school.
Please email any completed form to support@readtheory.org.
As always, students can connect to multiple teachers themselves. The next time the students log in, they will need to navigate to their "My Teachers" page, located in the drop-down menu on the top-right of their screen. Here they will enter either the new teacher's email address or the applicable classcode.
If they enter the teacher's email address they'll appear on the teacher's "My Classes" page as a "Pending Student Invitation" and can then be sorted into the appropriate class. Please ensure that the new teacher has created and titled at least one class prior to students linking to them. If students enter the classcode, they'll be automatically sorted directly into that class.
Did this answer your question?